Good Morning,
It's been just over a year since I bought my Balenciaga Triple S trainers and I thought it would be good to look back at how I've styled them in that time. You might remember I purchased a different pair at first but they just weren't right for me. For some reason I was still lusting after them and ended up going for the blue and white combination which is much more in line with my taste and style.
1. With Dresses
My favourite way to style them is definitely with dresses. I love the contrast of the chunky and masculine look of the trainers with a soft and feminine style dress. They say opposites attract and that's definitely the case here. Pairing with shape enhancing styles such as wrap dresses or designs which accentuate the waist also helps keep things in proportion. I'm 5ft 2 / 160cm with a petite frame and it's easy for the trainers alone to overwhelm me. They are big, heavy and chunky so if I was wearing something oversized or boxy, not only would it make me look bigger than I am, it would be totally out of proportion for my build. It's all about getting the balance right. As you can see I've styled with various types of dresses including some bolder patterns and plain and simple styles. Accessorising the outfit with hair accessories and a nice bag also helps the trainers blend in a bit more.
2. Casual with jeans
The easiest way to style these trainers day to day is obviously with a casual pair of jeans. Again, as mentioned above I think it's important to get the balance right. Skinny jeans work really well and if anything I'd say the trainers help elongate the legs in form fitting styles. I've also styled with mom and looser styles of jeans, most recently my paperbag waist ones from Zara. The high waist style accentuating the smallest part of the waist helps keep things in proportion. I do love a plain white tee with a pair of jeans and trainers and that's no different with this pair although the obviously stand out a bit more than other styles.
3. With contrasting patterns / textures / materials
I didn't expect these trainers to work so well with statement pieces whether it be a patterned coat or a bold bag however they've proved far more versatile than I thought. I tend to be quite safe with my outfit choices and have only more recently introduced a lot of colour to my wardrobe, previously sticking with classics such as black, white, navy or neutral. It's been fun experimenting and of course there have been some occasions where the pairing just hasn't worked. It's all about trial and error and often stepping out of your comfort zone pays off.
A patterned blazer wasn't an obvious pairing for these trainers however for some reason, it works. Even though the blazer I've styled with has quite a fine and detailed check pattern, it seems to blend well with the style and shape of the trainers. The blue and white tones help however I think if this blazer was pink or grey, it would also work.
My blue houndstooth coat is also quite a statement piece however it matches well with the trainers. The oversized fit only works because the jeans are slim fitting, again balancing out the silhouette.
When I added my new baby blue Kensington bag, I wasn't sure if it would be a match but surprisingly it goes even though the tones of blue are different and the bag is a very smooth and soft leather whereas the shoes are material and quite harsh in comparison.
Another surprise was pairing with leather, well faux leather. I love my paperbag waist style from Very and I think the matte finish helps. They are more of a casual style but can be dressed up.
Overall I'd say getting the right colour combo of the trainers really helps when it comes to styling with existing items in your wardrobe. I have a lot of whites, blues and reds in terms of clothing and accessories which match really well with the particular style I have. If you're considering purchasing a pair, I'd recommend sizing down at least half a size as I'd say run big and with the weight of them and speaking from experience, you don't want them rubbing or slipping on and off. I've got two insoles in mine now which makes them far more comfortable but I wish I'd just got a smaller size in the first place.
---
What do you think of the Balenciaga Triple S trainers?
They are very much the marmite of the trainer world and I know some people still think they're hideous. I'd say I've grown to love them even more and I'm getting much more wear out of them as time goes on although obviously not at the moment as I'm staying at home.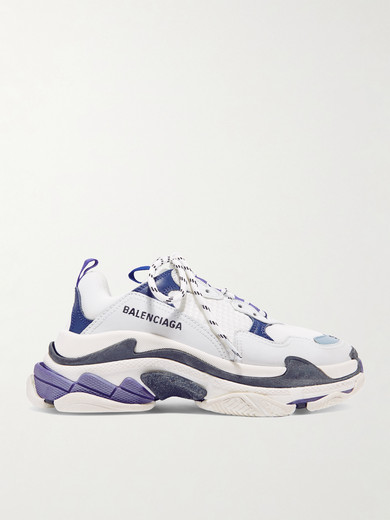 xo!